This is still my most frequently used promo head shot. Most of my shows and concerts are solo, so yeah. I see it pretty often. I actually took this shot myself with a fifteen second delay.
For Wade's bio, go to About
The Wade Preston Band: From L to R: Jon Ventre on bass, Wade, and Steve Kurilla on drums. Amazing musicians I get to play with from time to time. This shot was taken by our friend, the very talented Rob Lettieri – www.lettieriphoto.com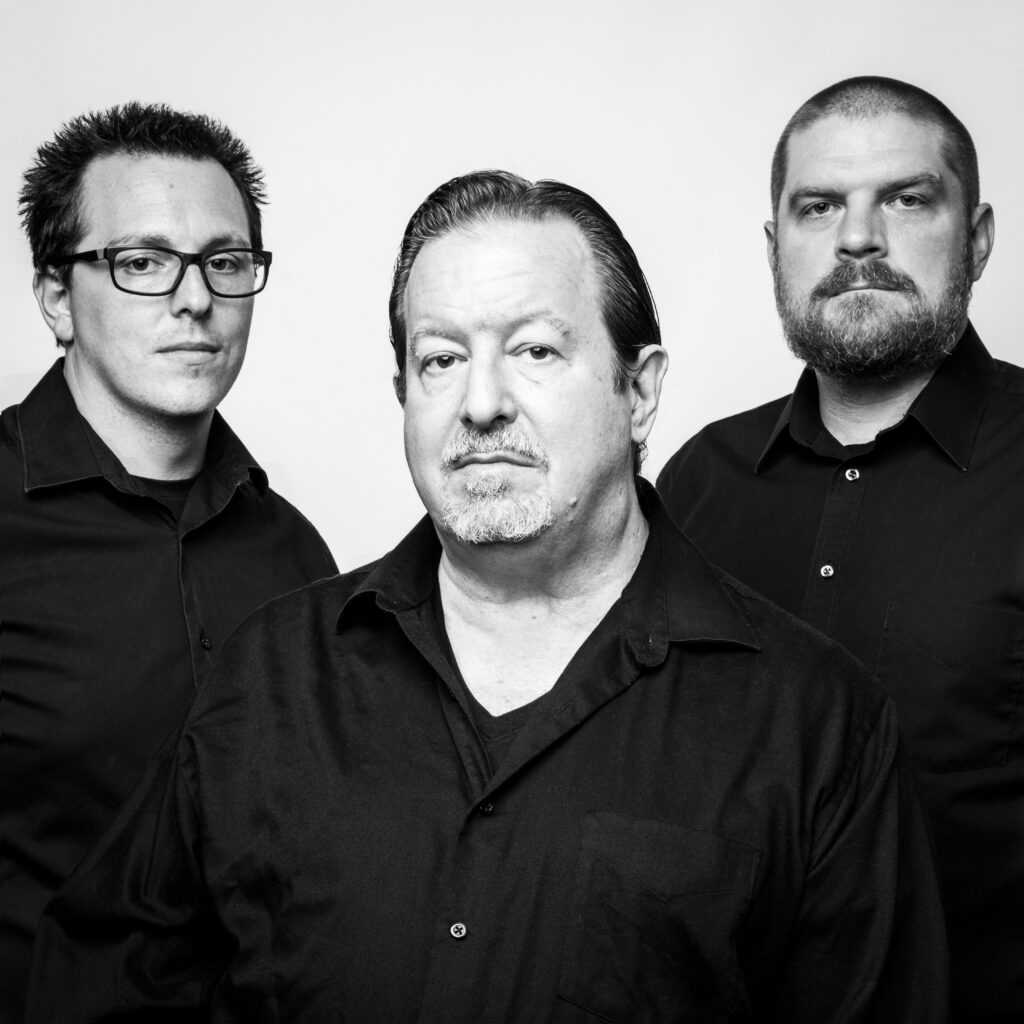 Steve Kurilla – Drums
Steve Kurilla is a graduate of Marywood University, where he studied Music Education and classical percussion. He has over 20 years experience playing drum set and percussion in regional concert halls, jazz clubs, casinos and universities. Steve currently performs with Wade Preston: Pianist and Broadway star of Billy Joel's musical, Movin Out, Marko Marcinko: Director of Jazz Studies at Penn State University, Dave Jumper: Dave Jumper and the Voodoo Barbeque Brass Band: recent headlining jazz act at the Scranton Jazz Festival and many other regional artists.
Steve is involved in many regional summer music camps and clinics including: Marywood University Summer Jazz Camp: Drum set and music theory instructor, Drum Set Extravaganza in Tunkhannock PA: featured clinician, Keystone College Summer Jazz Camp: drum set instructor, Mapex Drum Clinic: presented by Magdon Music: Opening performer and Yamaha Sound of Summer Percussion Workshop: East Stroudsburg University Mallet Keyboard instructor.
Steve is an Adjunct Professor at Marywood University where he teaches jazz percussion, and a classroom music teacher at Howard Gardner Charter School located in Scranton, PA.
Jon Ventre – Electric and Acoustic Bass
A native to the NEPA area. Known locally for performing with area Artists/Bands, Clarence Spady, Wade Preston, (DMB Tribute) A Proud Monkey, Nate Hosie, as well as outside of the area with several wedding/corporate bands out of the New England Area. Jon has also had the pleasure of sharing the stage with (Broadway vocalist) Debbie Gravitte, (Late Smooth Jazz Guitarist) Nick Colionne, Harold Melvin & The Blue Notes, Marc Cohn, and many more. In addition to being a musician, Jon holds a private pilot's license and is working towards a commercial pilot's license.
A Little Story About the New Wade Preston Band
The Wade Preston Band (WPB) is Wade on keyboards and vocals, Steve Kurilla on drums, and Jon Ventre on bass.
Wade's biggest claim to fame is playing the Piano Man role in the Billy Joel / Twyla Tharp Broadway hit Movin' Out. As a result, on the east coast Wade is known as the Billy Joel guy, and does concerts with the Movin' Out Band as well as solo concerts, mostly revolving around the music of Billy Joel.
Before Wade landed the Broadway gig however, he lived in Southern California, and was well known for his original material, spirited vocals and piano chops. So, on the west coast Wade is still known as, well, Wade.
During those pre-Movin' Out days, Preston toured the California circuits solo and with the first incarnation of the WPB, and quickly grew in popularity. "We could do anything. We were so musically connected that I could drop a cue and the band would instantly change style or launch into another song. And we had a huge repertoire, both original and cover. It was a hell of a trio, very unique, perfect for me, lot's of musical freedom."
The band recorded one CD of Wade's original material called No Present Like the Time before they disbanded. Wade eventually moved back to his native NY to star on Broadway.
When Wade moved to the Scranton area in 2015, his friend Joe Munley suggested he put a band together like the one he had in California. Wade didn't think it was possible until Joe introduced him to Jon and Steve. The chemistry was almost immediately apparent, and the East Coast, Wade Preston Band 2.0 was born.
Wade's first CD featuring this lineup entitled Lost In the Noise was released in July of 2020. Wade is now working on the second original CD and a Christmas CD (which is finished and will be available for the holiday season in 2023) with the same lineup.
"It's truly gratifying to be playing with such great musicians. I didn't think it could ever happen again. I am grateful to Joe for introducing me. They are busy, very much in demand, and play with a lot of different people, so I feel especially lucky to be able to work with them."
The long awaited CD LOST IN THE NOISE, featuring Jon Ventre on bass and Steve Kurilla on drums, as well as a number of orchestral musicians to add to the eclecticism of the music is now available as a physical CD at my solo or WPB performances, or as downloads on iTunes or streaming on all digital formats.
For those of you who still have CD players … my apologies for the lack of ordering CD options. My bad … When it's time to order the next pressing those options will be back up here.
This project took a year and a half to create. It's a concept record and it's about an hour long. I'm very happy with how it came out. It's quite eclectic, very Wade. I hope you enjoy it. Check out the free liner notes that include all the lyrics and additional musicians and other information.
And then there was 1995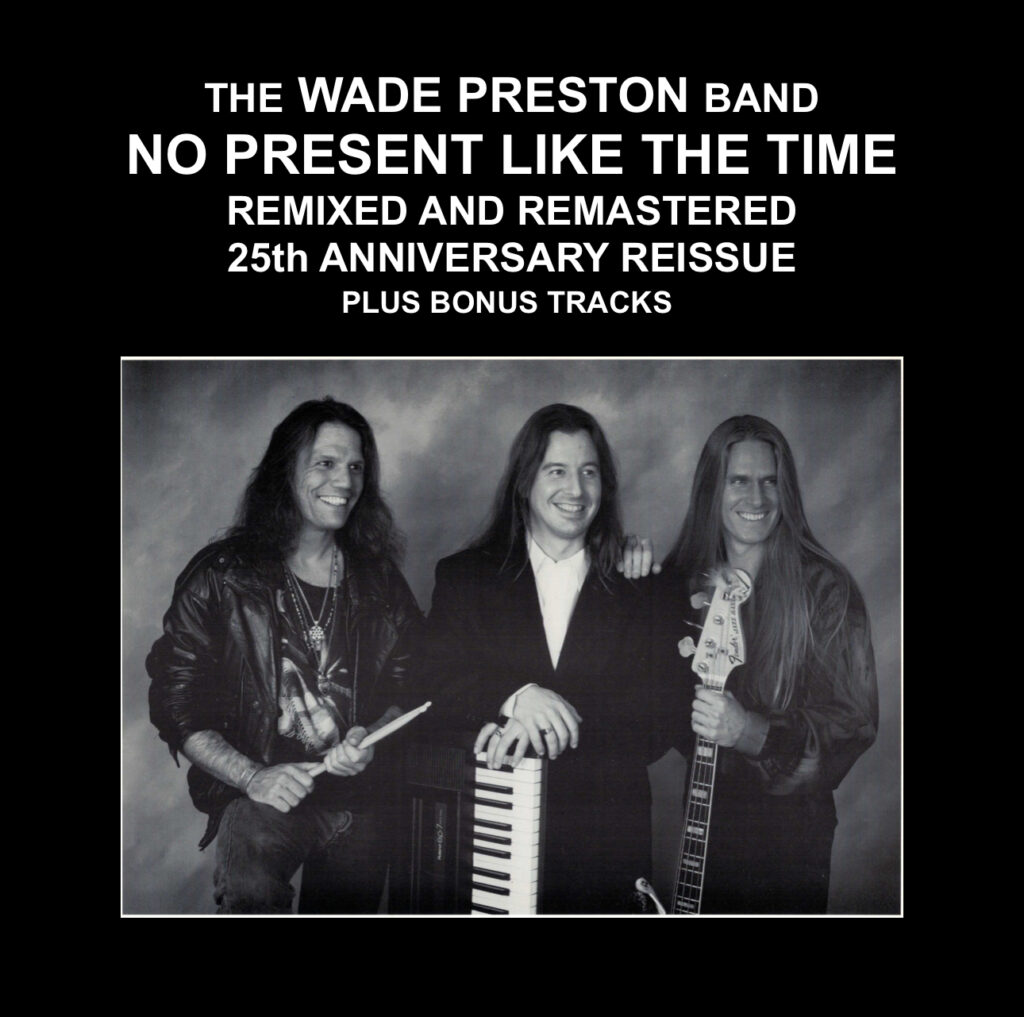 Originally released in 1995, the classic No Present Like the Time CD with the original WPB, with Christo Pellani on drums and Clifford Rehrig on bass, has been remixed and remastered. I was never too happy with the original mixes, so when it came time to transfer all my original ADAT tapes to a digital format that wouldn't deteriorate (ADATs used VHS tapes), Eric Ritter and I took it upon ourselves to remix and remaster the whole thing. Thank goodness the tapes and machines were all still in good shape! We even found two instrumental tracks that weren't on the original pressing, so we included those as well. The only thing missing is the beautiful original artwork done by Steve Johannessen, and the original photography. Sadly those hard drives had deteriorated beyond repair. But the music survived! So, for now this recording is only available as downloads on iTunes and streaming on all digital formats. There are some real classics on this recording. Christo and Cliff are still on the west coast, but we still chat quite frequently. Love these guys. Funny as hell! And they were and are amazing musicians. To this day no drummer has been able to pull off Coffee To Go like Christo, or even figure out the time signatures. We never did, either. We just felt it. It really was a great band.
I thought I should include this video since Movin' Out was a big break in my career and why, even though I play all kinds of music, people still tend to associate me with the music of Billy Joel (which I am totally okay with!). This is the original ten piece Movin' Out Band shot at the Richard Rogers Theatre on Broadway in 2005 not long before the show closed. We opened in 2002 – pretty good run. The MOB still does concerts from time to time, with either a five or six piece band, of course featuring the original arrangements of Billy's classic tunes. However, there is no dancing lol.